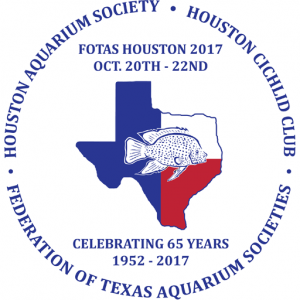 Welcome to the online home of FOTAS 2017!
The 65th annual convention of the Federation of Texas Aquarium Societies (FOTAS) will be held in Houston, TX beginning on October 20 and ending on October 22.  The convention will feature several speakers beginning Friday evening, an Awards Banquet Saturday night (featuring a Funny Money Auction) , and a giant live fish auction and aquarium related products on Sunday.  Additionally, there will be a Fish Show with cash prizes (registration required).  This will be a fun event that you will not want to miss!
Please use the above menu to get more information on all of the items as well as to register for the event and / or the fish show.  Also, please note that registration for the convention is $10, this includes everything except the Awards Banquet, which is a separate $20.
See you October 20!